Variable layer height mess up top layers that are over a bridge
Variable layer height mess up top layers that are over a bridge
Hello,
I got two spaghetti plates on the MK4 while I was printing the top layer of a thin object and this layer was over a bridge.
On another attempt the print failed almost at the end, because one object detached in half and I got spaghetti again (see photo) (curiously I noticed that the broken layer that detached was the one corresponding to the filament change layer 😣 )
I had already printed successfully 4 plates, so I realized that after the last successful print, I had activated the variable layer height for all the objects to speed up the print. 🙄 
I retried removing the VLH and the object printed successfully.
Basically when filling the surface over a bridge, the top surface is not really flat, and even after 4 top layers, it still a little concave. If VLH is activated, the slicer put really filament in the air since the surface is not flat, and then it does spaghetti. I saw the same behaviour on the top surface of a lower 10/15% infill, where the flat surface was not perfectly flat.
This happens only if VLH is active. On standard 0.2 or 0.3 you can clearly see that the surface is a little concave but it is well printed.
- Do you have experienced the same issue ?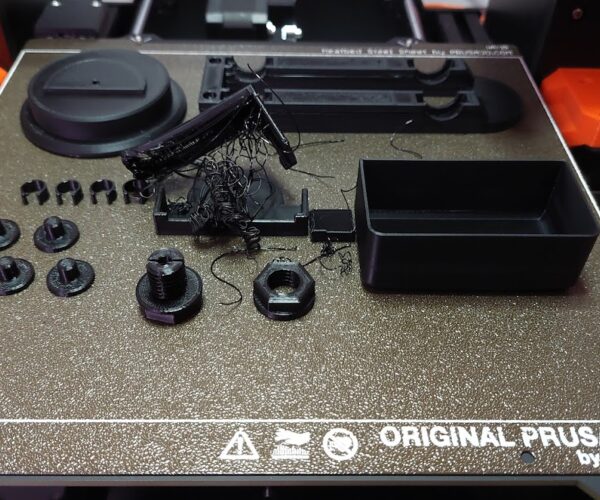 This is the close-up image of how appear the top surface of the LCD cover object (layer over a bridge) and the top layer over an infill (15% )with VLH enabled:
this are the same objects with VLH disabled:
The plates were printed in PRUSA PETG on MK4 IS.
Posted : 19/11/2023 7:59 pm
RE: Variable layer height mess up top layers that are over a bridge
Do you have minimum shell thickness enabled on your profiles ?  See with 4-5 top layers of 0.2 you get 0.8/1mm of top.  If you have VLH and the height is 0.07 or whatever then 4-5 layers gives you a much thinner top.  The point of the minimum shell thickness setting is to safeguard not having enough layers either if you set the value too low or use a layer height modifier.
Posted : 19/11/2023 8:46 pm