Bed Calibration Point Not Found
Bed Calibration Point Not Found
After a few weeks of non-use, I started a print last night on my MK3S+. When I started it, the printhead was way over to the right of the bed and it thought it was zeroed. I turned it off and moved the head all the way to the left and tried it. It was working, but not centered. Since the shape was on the bed and it's a 10 hour print (which I'd rather let it do overnight), I figured I'd let it go. Got up to find out it ran out of filament. So I cleaned up and tried an XYZ recalibration. Then I got this: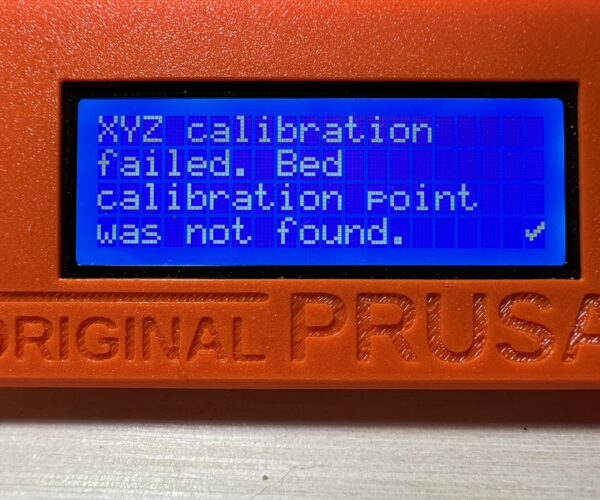 That was on the 3rd calibration point, back right. shut down and tried again and got it for the first calibration point.
Now I have had to dismantle my hot end and print replacement parts for it due to a heat issue at one point. But even after I did that, my printer has had no problems with calibration and printing - until today.
My thoughts at this point are to check the hot end assembly and especially the SuperPINDA mount and wires (in case some were pinched or something). I'm hoping people can offer suggestions about what to check first, before doing the disassembly thing. What else should I check before "biting the bullet" that is easier to try or has a good chance of fixing this issue?
(I don't know if it's significant, but it seems odd to me that, on the first try, it read the 1st and 2nd points and couldn't find the third, then, after that, couldn't find the 1st - makes me wonder if it just all-out failed before it couldn't find that 3rd point.)
Posted : 20/09/2023 9:51 pm
RE: Bed Calibration Point Not Found
I never did get an answer to this. I had other work to take care of, so I put this on the back burner for a few weeks, but I still need help with this issue if anyone has info that would help!
Posted : 22/10/2023 8:16 pm
RE: Bed Calibration Point Not Found
Solved!
I wish someone had seen this earlier and thought it had the least chance of being due to the bug in firmware 3.13.1, but at least it's solved now. Solution is here.
Posted : 26/10/2023 2:01 am