Stringing Issues
Stringing Issues
I am running in to stringing issues with PETG and PLA.
It does not matter what I change for temperature or retraction.
I have tried with the Prusament PLA that came with the machine as well as new spools of Protopasta PETG and PLA.
Posted : 31/07/2023 10:47 pm
First dry it - includng the new stuff, then if problems persist come back with a picture of the issue.
Cheerio,
Posted : 01/08/2023 7:32 am
Hmmmm. It certainly looks like slightly damp filament; you can't assume that new filament is dry btw, you have no way to know how it was treated in transit.
If you have access to another printer try swapping filament between them - does the problem follow the filament?
Is that a picture of PLA? If so try lowering the print temperature by 5 degrees.
Cheerio,
Posted : 04/08/2023 11:14 pm
RE:
That is after 15 hours at 45C in a dehydrator.
I do not get the stringing on my Mk3 at the same temp.
The black is PETG, the silver is PLA.
This post was modified 2 months ago by
jsawyer
Posted : 04/08/2023 11:16 pm
I assume you are using the default nozzles..?  Larger nozzles always string a little more but not this much.  Have you tried a temperature reduction - both filaments?
Cheerio,
Posted : 05/08/2023 4:35 pm
RE: Stringing Issues
Yes, I am using the stock .6 nozzles. 
I have a pair of .4 but have not installed them yet. Trying to get things sorted as is first.
It looks like the temp settings were not being stored correctly in the filament profiles and may have been reverting to the originals when I was slicing files.
I have created copies of the filament profiles with reduced temps. I am running some new tests now.
Posted : 05/08/2023 5:17 pm
RE: Stringing Issues
My Prints having stringing it is not the filament that i use either.
I have not had a single print that has not had stringing with PETG from the XL.
Posted : 11/08/2023 10:51 am
RE: Stringing Issues
Check out my post under the " how do i print this " section that was created and moved my poor XL Prints thread too . My XL ( multi tool ) has not only massive stringing issues but under extrusions issues and phantom layer issues . They tried to tell me onchat a few times now its damp filament . No way as my XL is in a room with 20 other Prusa machines mixed of MK3 MK4 and Mini not ONE of those machines have any issues , to top it off i have tried 12 different rolls of filament all brand new out of the box . I have even gotten a poor results on the XL taken that same roll moved it to the MK4 and printed a perfect piece . I firmly believe they have an extruder issue on these machines and they dont want to admit it . 
Posted : 12/08/2023 4:09 am
RE: Stringing Issues
Printed with my new XL today and got surprised about all stringing, and partly bad printing quality. Used the same material the day before on my MK3S and it worked perfectly and better final result so quite disappointing after spending so much money 🙁
Have ordered a 0,4 nozzle and hope that will give a better result, or more close to the MK3S. 
Posted : 20/08/2023 8:17 pm
RE: Stringing Issues
Yea welcome the the XL world . I've been battling mine for 4 weeks now and finally just got acceptable prints out of it . Mine was factory assembled, I found 3 miss threaded screws in The extruder dock and the Z motor rods had loose screws on the bearings . Now I'm battling trying to get filament loaded without without clicking like crazy and super bad print blistering no matter what I do with retraction settings . Again still back and forth Prusa Chat and they keep telling me they will email back with a resolution and they NEVER do . 
Posted : 21/08/2023 3:51 am
RE: Stringing Issues
Sad to hear and will double check all the screws 👍 Continue to follow this thread if any news pops up...
Posted : 21/08/2023 5:02 am
RE: Stringing Issues
I had issues getting filament loaded until I noticed that the order in which I connected the tube, wire, and guide thing were not correct.  With the extruder in the dock I undid all three connections and then re-ran them so that the tube was straight down in to the top of the extruder.
I switched to .4 nozzles and was able to get the stringing to an almost acceptable level.  I am having to print 15 degrees cooler than the Prusament profiles with Prusament fillament.
Posted : 21/08/2023 9:52 pm
RE: Stringing Issues
Very similar issues, this extruder has problems. I think one of the issues is that the idler is completely mis-fit, and provides almost no pressure to the filament against the extruder gear. The idler tension screws are nonsense, they do absolutely nothing. I tightened a C clamp against the idler door, and many issues disappeared. The underextrusion: idler. The stringing: poor retraction/slipping from, you guessed it, loose idler. And same issues with support: "I'll run this by the dev team and email you"...... crickets. 
To test this, where you are seeing underextrusion, just pinch the door while its printing and see what happens.
Posted : 27/08/2023 8:45 pm
RE: Stringing Issues
Hey guys,
I build my XL 2 Head on Saturday and I personally experienced the following:
Huge Stringing Problem for small Material changes an small details, especially with Silk PLA from a Chinese manufacturer. I increased the retraction and decreased the temperature(according to the Filament specs printed on the roll). Also I adjusted the oozing stoppers. They are now a in touch with the nozzle. Also I increased the retraction when the head is parked.
Very very low stringing for PLA and PETG. Only the Chinese Silk filament is still stringy, but I think I remember that was also the case in the MK3s.
Posted : 28/08/2023 8:40 am
RE: Stringing Issues
You might want to print a temperature tower. It might shed some light on the issue. Google it and download the file.
Posted : 28/08/2023 5:03 pm
RE: Stringing Issues
Well been working at it now for few weeks with support on my factory assembled multi tool unit . Every single print no matter what's done is blistered blobbed and poor layering . The latest rounds of email I reprinted a few pieces to new R2 variants replaced them , adjusted PTFE tubes etc …. No matter tool head I use it's extremely poor . Sent off another email for support but I'm pretty sure this machine needs to be replaced . There's an issue somewhere and waiting days for support to try a couple tiny things and nothings working . The filament can be taken off this machine and used on any of the dozens of Prusa machines in The shop and it'll print perfect . It's definitely not a filament issue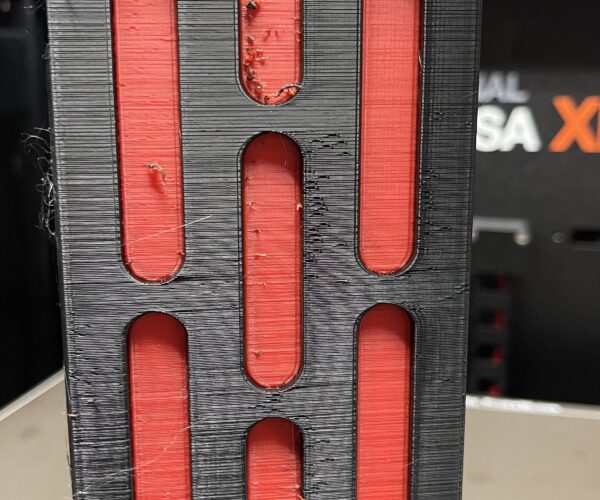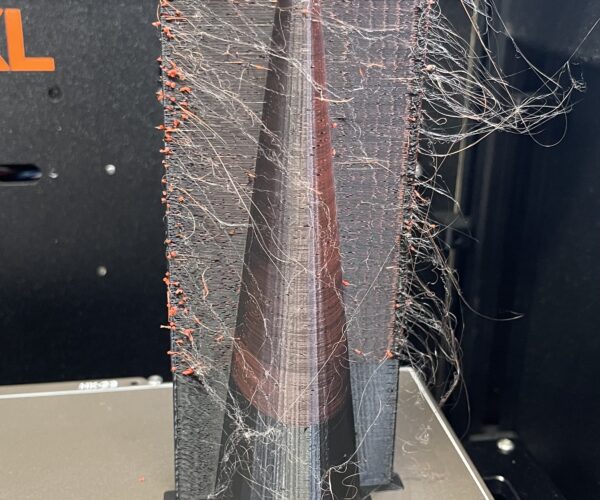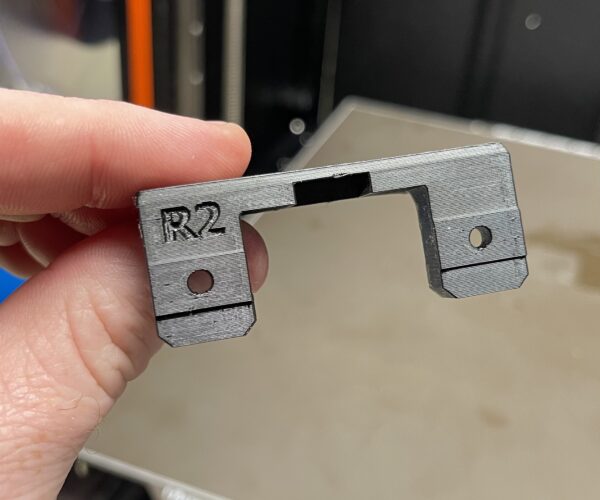 Posted : 01/09/2023 10:35 pm
RE: Stringing Issues
Adding my voice to this thread. I have a MK3 that I've upgraded to 3S, not quite 3S+, and I've been running it for about four years now. I also have a new, single-head XL. I know, this is the multi-head forum area, but I don't think that's a factor here. 
Today, for example, I have the same large print running on both the XL and the Mk3 at the same time. They are both running brand new PETG spools. I do keep all filament in a huge dry box that is loaded with about 30 pounds of desiccant. I'm running stock Prusament PETG profiles on both machines. I generated G-Code specific to each machine profile. Each machine is fitted with a 0.6mm nozzle.
The Mk3 can barely fit the print. The part is coming out clean on the MK3, with very little stringing or "crumbles". It looks like what I would expect this machine to produce. 
The part on the XL looks similar to the pictures above, with lots of fine stringing, and a bunch of "crumbles", especially in inside corners. 
The posts above give me some ideas on what to try, both in parameters, and in checking the print head. If I do learn something as I work this out, I'll post it on this thread.
Posted : 09/09/2023 6:43 pm
RE: Stringing Issues
Yea got the same issues with stringing and oozing on my multitool XL... More Retraction doesnt help. only to reduce temperature helps a little bit.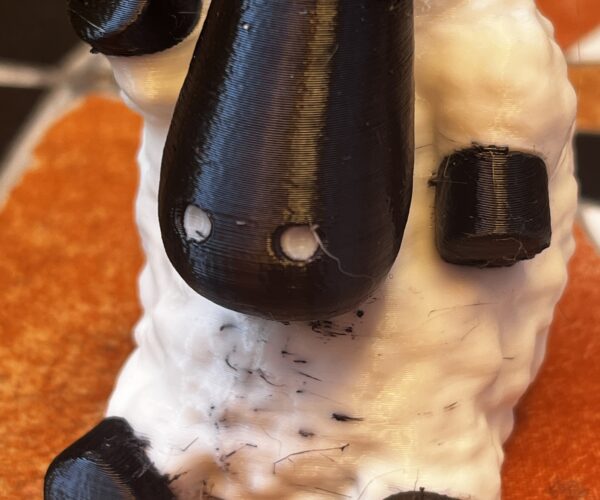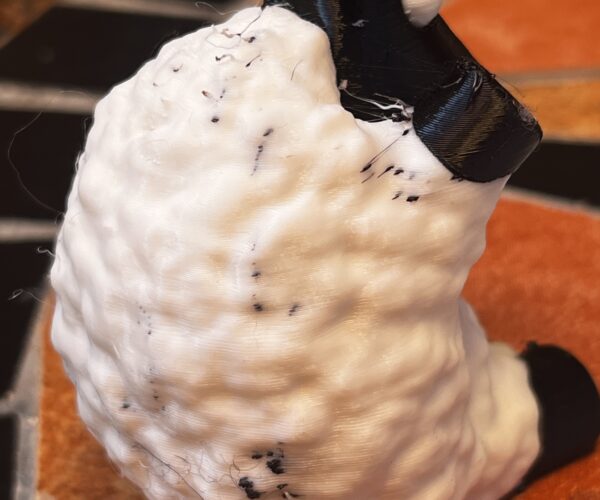 Posted : 10/09/2023 4:02 pm