5.1.0-aplha1 Fail Mini+ Print fan error (when fan tested OK)
5.1.0-aplha1 Fail Mini+ Print fan error (when fan tested OK)
Test print of XY support arm estimated 4hrs by PrusaSlicer v2.6.1.
https://www.printables.com/model/144160-prusa-mini-z-axis-brace-reinforced
Copied to Prusa Mini+ (Aug 2022 version)
Test prints at 200%speed (estimated 2hr print)  paused at .8mm level with Print Fan error .
Stopped, surface cleaned and print restarted 2x; same failure each time
Fan test result: OK
Last try, selected resume then changed fan speed was 15, changed to 'off'; speed 150%.
Same fail with fan speed error 
Retried resume with Tune/Print Fan set to 'off', speed 150% ; success, no error!
Tune changed speed to 200% briefly to check while printing, no failure.
Still printing, changed Speed back to 150% speed; fan had automatically changed to 30 (g-code caused?) but still printing; now at 1.2 level. Left Fan at 30 and crossed fingers.
Still printing, changed to Speed to 200%, now at 2.0mm level; left Fan at 30. fingers still crossed
Continued 200% speed at 4.0 level
Continued 200% speed at 7.0 level
Completed successfully after approx. 2.5hrs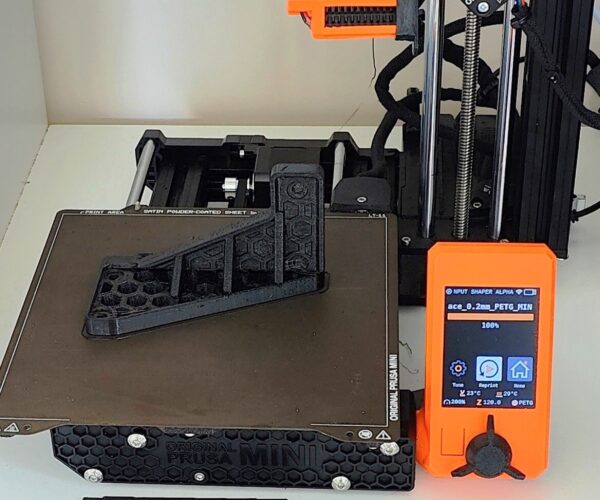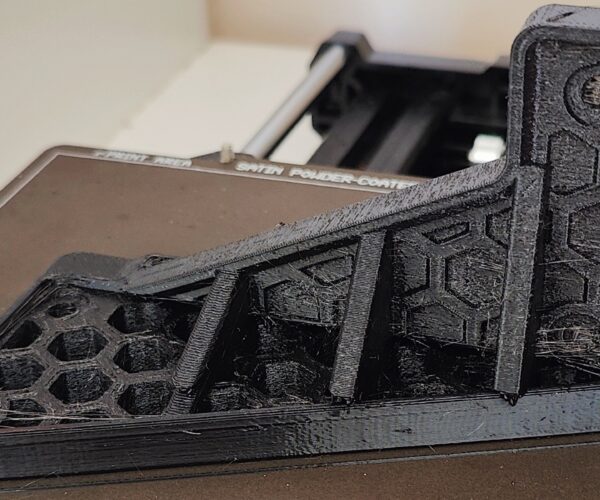 Posted : 21/09/2023 3:34 am