MK4 PLA Stringing
MK4 PLA Stringing
I'm new to PrusaSlicer and the MK4, not to 3d printing or CuraSlicer.
I'm trying to calibrate my localy sourced PLA (Argentina) to reduce stringing, tried adding retraction from the 0.8mm default in generic PLA, no luck, tried other PLA Brands to try my luck, nope. Went to 1, then 2 in the retaction value, no luck either. Rest of the parameters are stock, as I don't want to change more than one paramenter at a time.
What do you suggest?
Thanks
Posted : 04/07/2023 4:36 pm
RE: MK4 PLA Stringing
I tried to reduce stringing for Proto Pasta HTPLA as well by changing those parameters, but didn't have much success. A proper guide would be very useful.
The only thing that helped a bit was actually increasing the temperature... go figure.
Posted : 04/07/2023 8:22 pm
RE: MK4 PLA Stringing
Tried with the retraction value but that wasn't helping, generic PLA prints at 220C, lowered it to 205C and the strings almost dissapeared, so I kinda solved it this way.
Posted : 04/07/2023 9:55 pm
With unknown filament first measure the actual diameter of the filament - three or four places and average it - and enter that in the filament profile.  Quite a lot of other factors are skewed if it's out by even a few percent.
Cheerio,
Posted : 04/07/2023 10:11 pm
RE: MK4 PLA Stringing
Did you manage to get rid of the stringing? Just printed a temptower after my prints were not good compared to the MK3S prints with the same filament and same temperature on the PLA (195C) but a horrible stringing ruined the prints: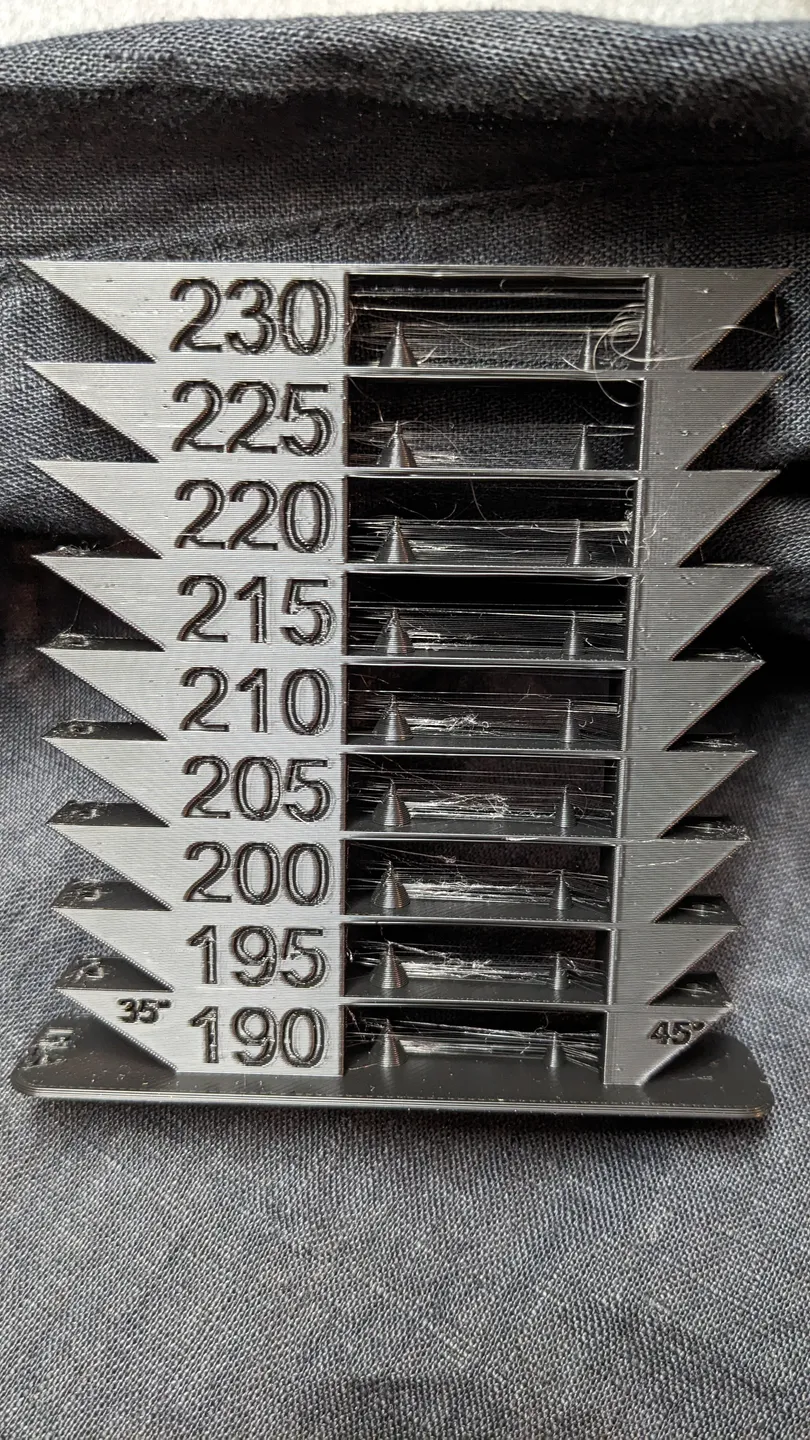 Any hints on what settings I might adjust? It's not the filament wetness. Works flawlessly on the MK3S...
Posted : 18/07/2023 7:38 pm
RE: MK4 PLA Stringing
Well, I tried to improve it with adjusting the throuput at the extruder and it runs through the correct amount of filament now (M503, M92 Exxx). However, the stringing is still happening. Also, when I use the exact same settings compared to the MK3S. Here are the last pics:
On the left I have the test on the MK3S, and with the same roll of filament on the right the same test on the MK4. I also ran the test with the MK3S GCode on the MK4, but the result was even worse compared to the MK4 settings.
I really have no clue how to handle this. It is with Jayo PLA, which is a Sunlu brand. And it should be a quite common PLA filament. With absolutely no issues on the MK3S.
Any suggestions?
Posted : 26/07/2023 5:34 pm
RE: MK4 PLA Stringing
Try setting the retraction back to prusa default, and reducing the extruder temperature.
regards Joan
I try to make safe suggestions,You should understand the context and ensure you are happy that they are safe before attempting to apply my suggestions, what you do, is YOUR responsibility. Location Halifax UK
Posted : 26/07/2023 8:14 pm
RE: MK4 PLA Stringing
I have opened a ticket with Prusa and we ran through many different settings with testprints for different retraction values and temperatures. However we did not come to a better result yet. It will be discussed now in their team and they will get back to me. 
Baseline is, that we are still clueless. No big changes through the settings. And all o them with lots of stringing. While with the same roll of filament a minute later on the MK3S no issues on the same test.
So weird...
Posted : 26/07/2023 9:13 pm
RE: MK4 PLA Stringing
Interesting test, and beneficial you have a MK3S to rule out filament issues (rules out the common 'dry your filament' response at least!).
Will be watching this thread to see what Prusa come back with.....
Posted : 28/07/2023 9:13 am
RE: MK4 PLA Stringing
My factory MK4 has wispy strings (not as bad as your picture but not present on my MK3S+). I ran the temperature tower and all temps had the same result. Curious to see what the factory has to say.
Posted : 28/07/2023 5:34 pm
RE:
I'm also experiencing wispy strings on my Mk4, stock prusaslicer settings for PLA.  I've printed 3 different brands of filament in the attached picture.  White eSun PLA+, Green Geeetech PLA, Black Prusament PLA.  I tried printing in the range of 195~225 deg c and all 3 are experiencing the same kind of stringing.  I did a pretest on the retraction, 0~3mm, and got the exact same results.
As mentioned, this result is stock prusaslicer 2.6.0 settings for PLA, the only adjustment is the extruder temperature.  I  never had the problem with my Mk3.
This post was modified 4 months ago by
ZachryWD
Posted : 29/07/2023 11:43 pm
RE: MK4 PLA Stringing
---
Set the flow in the filament settings to 0.95 or even 0.9. Measure and enter the diameter of the filament beforehand.
You could also try changing the layer width to e.g. 0.38 or less with a 0.4 nozzle.
The whole point is to minimize the pressure in the system.
I assume that the temperature was determined in a temptower.
Retract may then even be reduced. Too much is not good, especially with pla.
Posted : 30/07/2023 12:26 pm
RE: MK4 PLA Stringing
Thanks. I ran through the same tests already with the same results. 
Meanwhile they asked for another temptower, which I provided. And I also used a different brand of filament for the temptower with the same issue.
Stringing tests with other brands also with exactly the same issues. So clueless what is wrong with the hyped Nextruder, which is not working at all here.
I also tried to recalibrate the gears, without any better process.
Options are decreasing...
Posted : 31/07/2023 3:09 pm
RE: MK4 PLA Stringing
Just got my MK4 a couple days ago and it seemed all was well until I tried printing something that would be prone to stringing. Yeah, the stringing is bad, really bad. I haven't tried any tuning yet except lowering the PLA temp to 200 which did nothing. I specifically bought the MK4 as my MK3 has been nothing but awesome. I'm really hoping that they get this solved soon because this is completely unacceptable for any printer that isn't $100.
Posted : 01/08/2023 2:38 am
RE: MK4 PLA Stringing
Why is that only with some?
I never noticed anything about my prints. But out of interest I did a stringing test. Prusa Alpha5 with PLA standard settings. Very minimal but worlds better than in the pictures here.
Which I do not understand why it reacts to nothing.
Somehow problems with the extrution?
Or other abnormalities when printing?
Was the problem from the start?
I would do several Coldpull to exclude that.I have added a GCode that absolutely has no stringing on my printer.
Posted : 01/08/2023 11:41 am
RE: MK4 PLA Stringing
Thank @rainer-2: I tried your gcode. Not sure what happened after the first few lines but the start was promising (with a cold printer. I just powered it on today for this test). After a few lines then the old topic was visible again.
However I can see that you worked with the flow reduction. The first layer wasn't what I would like to see, I have to admit. So this won't work for me.
Posted : 01/08/2023 4:43 pm
RE: MK4 PLA Stringing
I tried your (Rainer) gcode and still got lots of stringing. see attached picture. You said your settings were default but your temps are 200/195. On my install default temps for PLA are 230/220. I am going to keep playing with settings to see if I can improve my results at all.
When printing things that aren't prone to stringing my results are perfect, very happy with what I see. 
Posted : 01/08/2023 5:03 pm
RE: MK4 PLA Stringing
......However I can see that you worked with the flow reduction. The first layer wasn't what I would like to see, I have to admit. So this won't work for me......
This was a test with extreme values to see if something would happen.
It didn't look bad at first.
You can display the hotend temperature in the footer. Check if the temperature rises.
Where the stringing begins does not change with temperature, fan, etc.
Posted : 01/08/2023 7:21 pm
RE: MK4 PLA Stringing
I just went through 12 runs of the stringing tower print with different settings for temp, retraction speed, retraction length, fan speed, and Z Lift. The only thing that showed any real improvement was lowering the temp to 190 and even 180. These came much closer but it was still just a significant reduction in stringing as opposed to eliminating it. Resulted in very few bridged strings but the towers were still quite fuzzy. I still find this unacceptable as my MK3 could print these at default settings with no stringing at all. I'm going to continue testing but I'm really not sure what else is going to make a difference.
Posted : 01/08/2023 8:54 pm